Posted by Nancy Murray on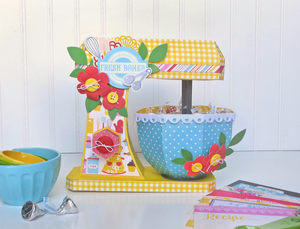 This morning I was scrolling through my Facebook feed, and was quite surprised and thrilled to see the most adorable version of my 3D Kitchen Mixer pattern featured on the Echo Park Paper blog! Jana Eubank, one of their design team members, created this colorful version using papers from several Echo Park collections, and also featured it on her personal blog, as part of a super cute gift package.
---
Posted by 120705640 on
Linda from the Make-the-Cut! forum shared this cute pop-up card she made using my Adorable Scarecrow cutting file, so I had to share it with you too!  Doesn't he look ready for Halloween?  :-)
---
Posted by 120705640 on
Looks like I'm to blame for Lisa (of lisakizer.blogspot.com) not getting her housework done, because she was too busy making purses! Lisa, I just have to say, I think your purses look great, and the housework will always be there for another day! :-)Check out what Lisa made with my 3D Purse project, and while you're at it, check out her blog as well! She's a new blogger but she's already got lots of cute cutting files and projects for inspiration.
---
Posted by 120705640 on
Steph posted a picture on the Make the Cut! forum of this adorable onesie that she created using my free rocket cutting file, I just had to show you! Thanks for sharing Steph!
---