Posted by Nancy Murray on
Many of you who purchase 3D patterns from our store use a Cricut to cut the files, so I put together an updated video showing you how to import our SVG files into Cricut Design Space.
---
Posted by Nancy Murray on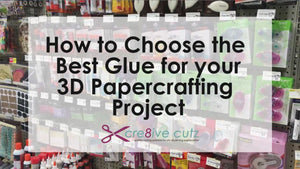 There's a HUGE variety of glues and adhesives on the market and the choice can be a little overwhelming, especially if you are relatively new to papercrafting and scrapbooking. I've been doing some form of papercrafting for over 20 years, so I've tried lots of different glues on various types of projects, and definitely have my favorites. In this video, I'll attempt to demystify the glue options, show you some of my favorites and explain where they work best. Enjoy! 
---
Posted by Nancy Murray on
Are you a Cricut Design Space user? Lots of cutting software lets you cut SVG pieces in whatever combinations you choose, no matter how they are colored on the virtual cutting mat. However, Cricut Design Space organizes the cutting by the colors assigned to each piece. This video tutorial shows you how to reassign colors to individual pieces so you can create your designs in whatever color combinations you choose. Enjoy!  
---
Posted by Nancy Murray on
Attention all Cricut Design Space users! I have started the process of modifying my cutting patterns so they are more smoothly compatible with Cricut Design Space. This video walks you through the process.
---
Posted by 120705640 on
Lots of people are moving to pocket style scrapbooking, and if you're one of them you might be wondering how to create 3x4 photos for the smaller pockets. This video tutorial walks you through the steps using Photoshop Elements to combine two 3x4 photos onto a single 4x6 photo that you can print on your home printer or take to a developer. [youtube https://www.youtube.com/watch?v=UGxCQVTT1ns?list=UUXjK4AOeQjNL704_7oQIaRw]
---
---